ACEC approved Training Course designed to cover all aspects of Cattle Artificial Breeding from Conception to Calving.
NEW…… Breedn' Betsy joined our team in 2009 – a very realistic training simulator. Breedn' Betsy is being used in 13 countries worldwide in training of cattle artificial insemination and pregnancy testing. Betsy complies with Animal Welfare Standards and is proving an excellent training tool combined with practical cow training. She accompanies us on all our training courses.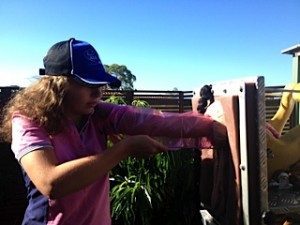 The course is professionally instructed with our Instructor having over 40 years experience in training cattle artificial breeding.
The course is conducted over 3 days commencing at 8.30 a.m. each morning. 2 days are conducted on farm and 1 day theory is conducted on line prior to the course. We limit numbers of each course to allow maximum learning ability.
The course is designed for all age groups – both male and female. Age and sex is no barrier from the very young to the "not quite so young". Everyone is welcome. We conduct these courses for TAFE colleges throughout NSW, Tocal Agricultural College, Sydney University Vet Students, Sydney University Ag Students and on private farms – as a group or by private tuition.
We use everyday language to enable students to obtain the most from the course. The course offers ample "hands on" practical insemination time – the key to becoming a proficient inseminator.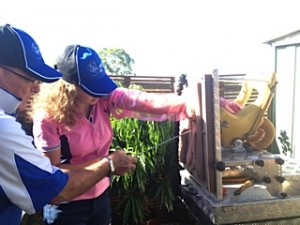 MORE THAN JUST AN A.I. COURSE – this course covers all aspects of Cattle Reproduction from Conception to Calving!
Subjects covered include Practical Insemination, Reproductive Anatomy, Managing a Breeding Program, Synchronisation, Breeding Records, Sire Selection, Nutrition, Reproductive Physiology, Herd Improvement, Disease & Hygiene, Heat Detection, Semen Handling & Storage.
Cost: $400 plus GST
A Certificate is issued at the completion of the course.
Course numbers are limited – registration is essential – please complete the registration sheet in the website and submit as soon as possible.