Benefits of Pregnancy Testing as a Herd Management Tool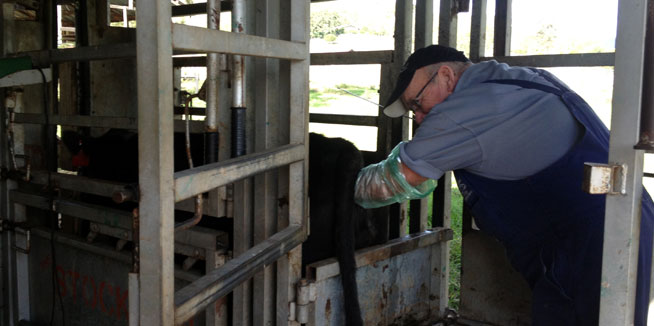 Early detection of non-pregnant cows is the main benefit from pregnancy testing. The age of the calf and the likely calving date may also be estimated during rectal palpation.
Various abnormalities responsible for infertility in cows can also be identified. The more common of these include cystic ovaries and uterine infection. The occasional freemartin heifer and other abnormalities of the reproductive organs may also be detected during rectal palpation. Diseases and management problems affecting the whole herd can also be identified much earlier if cattle are pregnancy tested. Low pregnancy rates may indicate problems with an individual bull. Poor fertility throughout the whole herd might be caused by an infectious disease, or perhaps inadequate nutrition prior to mating.
This is a two day course covering all aspects of Pregnancy Testing in cattle.
Our Cattle Pregnancy Testing courses are held over two days and limited to 8 students. Utilizing Breedn' Betsy the Cattle Pregnancy Testing artificial cow training aid.
This course will provide farmers with the skills to recognize the characteristics of pregnancy in cattle. The course covers all aspects of the anatomy of the cow, pregnancy testing involves more than "putting your hand in".
Subjects covers are the reproductive anatomy of the cow, step by step guide to pregnancy testing, recognizing stages of pregnancy testing from 2 months onwards, breeding records – an essential management tool, reproductive diseases and other methods of pregnancy testing including how to tail bleed for pregnancy testing via blood sample.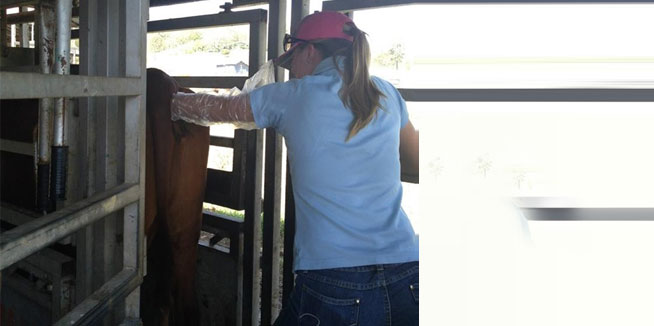 Course cost $400 plus GST.    Deposit of $150 required at booking. This deposit is fully transferable to another course if you are unable to attend due to unforeseen circumstances.
An Accredited Certificate is issued at the completion of the course.
This course is ACEC DPI and Qld DAFF Accredited.