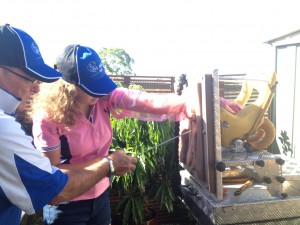 A new course being offered by All State Agricultural Service.  This course is professionally presented by eCoach, an online training software company.
This is a comprehensive detailed theory course covering all aspects of Cattle Artificial Insemination and much more.  The course combines written theory & instructional videos combined with practical advice and quiz.
Subjects covered include
History of Artificial Insemination in Cattle
Reproductive Anatomy of the Bull and the Cow
The Oestrus Cycle – Heat Detection in Cattle
A.I. Gun Loading
Insemination Technique
Herd Management & Record Keeping
Synchronisation Programs for Cattle
Reproductive Diseases & Disorders
Nutrition & Reproduction
Pregnancy Testing in Cattle
The course cost is $200 plus GST.  If you decide to complete the practical component at one of our group courses at a later date, the cost for the practical sessions will be $200 plus GST.
Once you book this course, you will be emailed an enrolment which will allow you to complete the course at your own pace over a 2 week period.  On successful completion of the course a training manual in hard copy will be posted to you, along with your certificate.
A certificate will be issued at the successful completion of this on line course.