Experience You Can Rely On!
All State Agricultural Service has been based in the Hunter Valley of NSW for the last 25 years.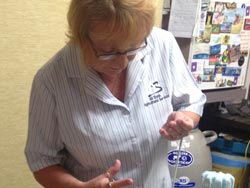 Jenny Sim is from the Hunter Valley of NSW and has over 30 years experience in the Artificial Breeding Industry. Jenny handles all the day to day running of All State Agricultural Service – the  office, semen sales, despatch and handling and looks after all our Equine clients.
Renae Sim  has completed her Cert3 and 4 in Agriculture along with a Diploma in Agriculture at Tocal Agricultural College.  Renae is a fully qualified Vet Nurse and is present employed by Jurox Animal Health as a Research Scientist. Renae has now taken over the field work of All State Agricultural Service. Renae conducts Artificial Insemination and Pregnancy Testing locally, including Ultrasound with the Repro Scan, bull fertility testing & bull semen collection. On farm liquid nitrogen & semen deliveries. Renae was born into the Industry, loves horse riding and competing and helping out at local Cattle Shows.