New and Used A.I. Equipment
All your Artificial Insemination equipment requirments at competitive prices.  ORDER ON THE ON LINE SHOP ON THIS WEBSITE.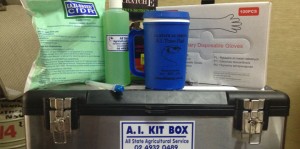 Agrivet Supersensitive A.I. Gloves – box of 100
A.I. Sheaths – pkt 50
Lube Powder – (make your own lube when you require)
Lube Bottle
Thaw Flask
Forceps
Scissors
Thermometer
A.I. Guns – universal
Heat Seekers
DIY Pregnancy Testing via Blood Sample
Cidrs
Cidr Applicator
A.I. Tanks
Kit Box Complete
Fertility Plus
To order equipment please SHOP on our online shop on this website.
A full range of both Beef & Dairy Semen is available. Brochures and catalogues
are available by calling the office. Otherwise, the following links are available to A.I. Companies. Orders placed with All State Agricultural Service will incur no or very little freight charges from the following Centres (unless you require an urgent order).
Quick links
Testimonials
A big thanks for running an excellent course, I can understand now why these courses are best run by someone who has the experience and knowledge such as Sandy's - wished I did this course before I bought my first cow!

Experience & Knowledge!

"Just home from the course and it was fantastic.  Sandy is a great teacher.  It has given us a new option as to how to manage the herd."

It was fantastic!

Joshua really enjoyed the course and learnt a lot.  Thank you Sandy for passing on your knowledge

Melanie, Wagga

Eon really enjoyed the course and got a lot of very useful skills from attending.  Thank you for providing a great opportunity for him

Gabrielle

Thank you for running the course for the University of Sydney students, I have an excellent time and thoroughly enjoyed it.  My Uncle allowed me to pregnancy test his cattle.  I was very accurate which made me extremely happy

Kristy, Student of Sydney University

Lucy and I enjoyed your A.I. & P.T. course very much.  We thought it was presented in a very realistic and practical way, as well as entertaining

Mihnea (Mitch)

The course was fantastic, Sandy is a very skilled tutor

Chris W