New Liquid Nitrogen Containers & Complete A.I. Kit Box
We offer a full range of Liquid Nitrogen Containers manufactured by Chengdu Golden Phoenix – a divisionn of Chart Industries (mother company to MVE). We have trialed these units over the last 5 months and found them to be working efficiently. We can offer the full range of units from dry shippers to large storage tanks at very competitive prices. Each unit comes with its own protective bag.
NOTE – the first shipment of these tanks are now sold out – waiting on the next shipment.  Price increase due to our Australian $.  THEY HAVE ARRIVED……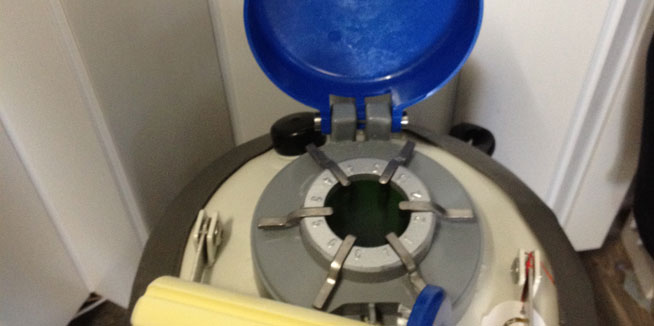 YDH-3HL Vapour/ Dry Shipper – a 3.5L unit – with 25 days static holding time – Retail – $1050 plus GST .  Protective travelling case is $500 plus GST if required.
YDS-20 – your farmer model storage tank – 20L, 6 canisters (double storage) – 2832 straw holding capacity. 202 day static holding time – Retail $1100 plus GST.
A brochure with the full range is available on request –  0400162233
COMPLETE A.I. KIT BOX – stainless steel and plastic.
The kit includes
2 x Universal A.I. Guns 1 pkt gloves 2 pkts sheaths
Lube Thaw Flask Thermometer Scissors Forceps Paper Towel
Cost: $240 plus GST
Quick links
Testimonials
A big thanks for running an excellent course, I can understand now why these courses are best run by someone who has the experience and knowledge such as Sandy's - wished I did this course before I bought my first cow!

Experience & Knowledge!

"Just home from the course and it was fantastic.  Sandy is a great teacher.  It has given us a new option as to how to manage the herd."

It was fantastic!

Joshua really enjoyed the course and learnt a lot.  Thank you Sandy for passing on your knowledge

Melanie, Wagga

Eon really enjoyed the course and got a lot of very useful skills from attending.  Thank you for providing a great opportunity for him

Gabrielle

Thank you for running the course for the University of Sydney students, I have an excellent time and thoroughly enjoyed it.  My Uncle allowed me to pregnancy test his cattle.  I was very accurate which made me extremely happy

Kristy, Student of Sydney University

Lucy and I enjoyed your A.I. & P.T. course very much.  We thought it was presented in a very realistic and practical way, as well as entertaining

Mihnea (Mitch)

The course was fantastic, Sandy is a very skilled tutor

Chris W