Bull Fertility Testing
We offer Bull Fertility Testing on your farm. Testing of your bulls each season before breeding is highly recommended.
Just because he performed last year does not mean he is fertile this season.
Bull Fertility Testing is also highly recommended before sale. Professional semen testing will be carried out on your bull – motility and percentage live will be measured and a Certificate issued.
How this Process is Carried Out – semen sample is performed by electroejucation – a mild electrical stimulation.
Facilities Required – the ability to restrain bull in a crush/lead up race (head restraint not essential).
ON FARM SEMEN COLLECTION & PROCESSING.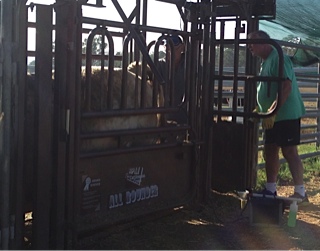 The Best Insurance for your Bull – Just ask yourself a couple of questions???????? Is your bull too valuable to lose to sickness or injury?
Is your bull jumping fences, fighting or causing too many problems? Is your full performing his duty?
Is your bull ready for sale but you would like to use his genetics in the future?
The solution is easy…………..
Have semen from your bull collected on your farm and then laboratory processed. This allows safe storage of your valuable genetics for later use.
Semen Collection & Processing – experienced & expert professional service – up to date technology including Spectrophotometer reading whilst on the farm (automatic sperm counter). Straws are professionally laser printed for clear identification. New generation extender which offers high fertility rates, no risk of microbiological contamination – EC Standard Antibiotic Formula.
COST: $3.00 per dose plus GST (minimum 100 doses)
Non Collection/Failure to Process $125 plus GST

How this Process Is Carried out: Semen collection is performed by electroejucation – a mild electrical stimulation. Semen is collected, tested, sub-sampled and prepared for return to Lab for processing. Laboratory processing is carried out in accordance with Government Standards, processing in .25ml (mini) laser printed straws.
Facilities Required: The ability to restrain the bull in a crush/lead up race (head restraint not essential). In the event of rain – keep bull as dry as possible. Access of vehicle close to holding facilities.
Bull Custom Semen Collection Protocol: The following guidelines will assist in endeavouring to successfully collect and process semen from your bull. Your bull should be of workable age. In good health condition (this process does enable collection from bulls which may have suffered damage to their reproductive organs or lameness). Large amounts of grain has an effect on sperm (due to higher body temperature) – reduce intake of grain prior to collection. Semen should be collected as soon as possible after his last service and be away from the cows 48 hours prior to collection.